More Info for my Bonzai Lovers – Styles
Posted by
By Brooklyn Botanical Gardens Staff
Observe old trees in nature, and you will see plenty of variation. Trees grow upright or slanting, in groups, pairs, or alone, out on plains or clinging to the sides of mountains. They are found in arid, moist, hot, freezing, still, and windy environments, and everywhere in between. Wherever they grow, trees are also affected by animals and diseases. All the stresses that nature places on trees are reflected in their shapes. Bonsai artists look at what nature creates with these factors and work to emulate it when shaping a tree, but they also add their own vision to produce a beautiful bonsai. That's why a bonsai is so much more than just a tree in a container.
The Five Basic Styles
Bonsai styles can be grouped in many ways. Five basic forms derive their names from the tree's angle of growth from a container and provide a common starting point for exploring styles.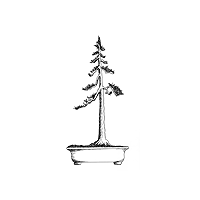 Formal Upright Style | Chokan
The bonsai of this style are reminiscent of trees growing in nature in an open location without stress. The trunk line is vertical with the apex located over the center of the trunk base, and must taper from base to apex. Each sucessive branch is, or appears to be, shorter than those below it and when the distance between branches decreases as they near the apex.
Informal Upright Style | Moyogi
This style is probably the most popular one in the bonsai. It depicts a tree in nature that has suffered from the elements, with a trunk line showing contortion and branches that sag. In nature, this shape is created by the constant breaking of the trunk line by storms, ice, snow, or the actions of animals and insects. In creating this style, bonsai artists start with a tree that already shows the stresses that nature has imposed on it, or create the trunk movement by the use of wire and other methods.
The following styles of bonsai are modifications of these five basic styles.